August 23, 2017
8-23-2017 The 5-Minute Fix: 10 things Mitch McConnell probably hates about Trump….(WP)
By Amber Phillips
While House Speaker Paul D. Ryan (R-Wis.) is giving a beleaguered President Trump the benefit of the doubt, Ryan's Senate counterpart, Senate Majority Leader Mitch McConnell (R-Ky.), seems so over this president.
The New York Times reported Tuesday that Trump blames McConnell for not being able to pass a health care overhaul, and CNN reports the two leaders haven't talked in two weeks. In a statement Wednesday, McConnell said: "The President and I, and our teams, have been and continue to be in regular contact about our shared goals."
Here are 10 things McConnell likely hates about Trump
1. Trump has little regard for Senate rules: He wants to get rid of the filibuster for legislation; McConnell would rather chew off his own arm than be the undoing of the very thing that makes the Senate different from the House.
2. Trump played little to no role in the health-care bill drama: Senators were left to come up with their own bill and just hope Trump didn't hate it.
3. Trump shows no interest in policy: His Phoenix campaign rally made that clear. Instead of focusing on tax reform, Trump spent at least a third of his 90-minute rally re-litigating media coverage of him in Charlottesville and attacking GOP senators.
4. Trump looks ready to support Sen. Jeff Flake's challenger: After the Arizona senator wrote a book blaming his party for the rise of Trump.
5. Trump publicly challenged Sen. Dean Heller, too: There are two vulnerable GOP senators up for reelection in 2018. Flake is one; Heller, from Nevada, is the other. And Trump doesn't like that Heller publicly opposed the Senate's health-care bill.
6. Actually, Trump has demonstrated no loyalty to Senate Republicans: Trump's M.O. is: If you cross me, I'll go after you with everything I've got. (See: 4 and 5.) At this point, McConnell doesn't trust him to have senators' backs if they have to take a tough vote.
7. Trump publicly attacked McConnell: After McConnell said Trump has "excessive expectations" about repealing Obamacare.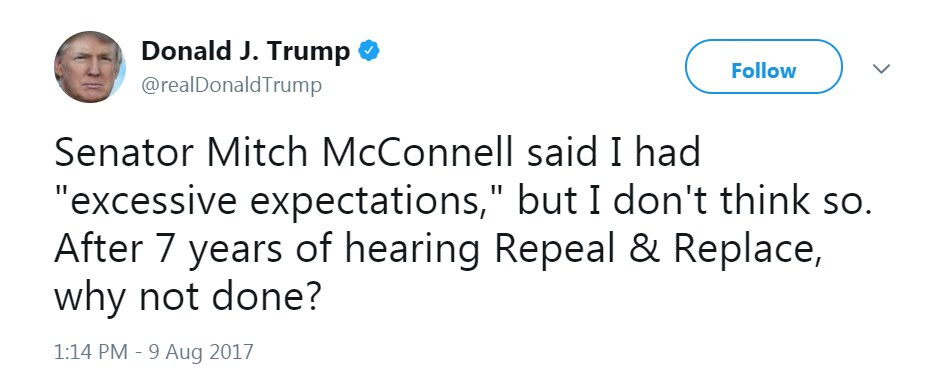 8. Trump can't stay on message: This isn't new, but it's likely getting very old for McConnell. Trump has an uncanny ability to undermine the Republican Party's message at the least-convenient moment.
9. Trump tweets. A lot. "I've been pretty candid with him and all of you that I'm not a fan of the daily tweets," McConnell told reporters for the zillionth time in February.
10. His wife has the world's most awkward job: Trump's transportation secretary, Elaine Chao, is McConnell's wife. Trump's notorious news conference last week, in which he refused to denounce white supremacists, was supposed to be about infrastructure. Chao was forced to stand next to Trump, stone faced, during it all.
This is a remarkable moment for the Republican Party and for American politics in general. Just seven months into having full control of Washington, the Senate leader isn't even talking with his party's president. They're closer to political enemies than allies, right as they approach a hellish month full of political land mines and deadlines.
Why we should be careful about questioning Trump's mental health